So we went there and enjoyed our Christmas time. There is some information below, so you can follow our steps. You should know that we did not want to swim in the ocean, we wanted to experience great outdoor adventures.
Targets
Pajsaje Lunar, Guajara, Las Canadas, Pico de Teide, Masca, whales or dolphins.
Schedule and GPS coordinates of Tenerife trek
Day 1
Flight to Aeropuerto de Tenerife Sur Reina Sofia. There is a little Touristic center and bus station in front the airport building. It is good to buy a special ticket (12 EUR) that you can use many times and for several people and you will save money every time you take the bus. We traveled to San Isidro and slept in a hotel.
Day 2
Go by bus from San Isidro to El Medano. You can swim in the sea there and you can do one more important thing there - visit the Tenerife Outdoor shop. You can buy a gas cartridge there. They normally have the classic Campingaz cartridges but if you contact the shop several days in advance, they are able to sell you the Coleman kind of cartridge (screw-thread) as well.

Then you will move to Vilaflor by bus (bus station is about 100 m from the shop). There is no direct bus line so you'll have to change bus in Granadila de Abona. When you arrive to Vilaflor, you can continue on foot. When you arrive to the Pajsaje Lunar/Guajara crossroad, there is possibility to sleep about 100 m from the road towards the south (it is not allowed to sleep in tent in the wild nature, so it is up to you). Make sure you bring enough of water with you as there is no source of water.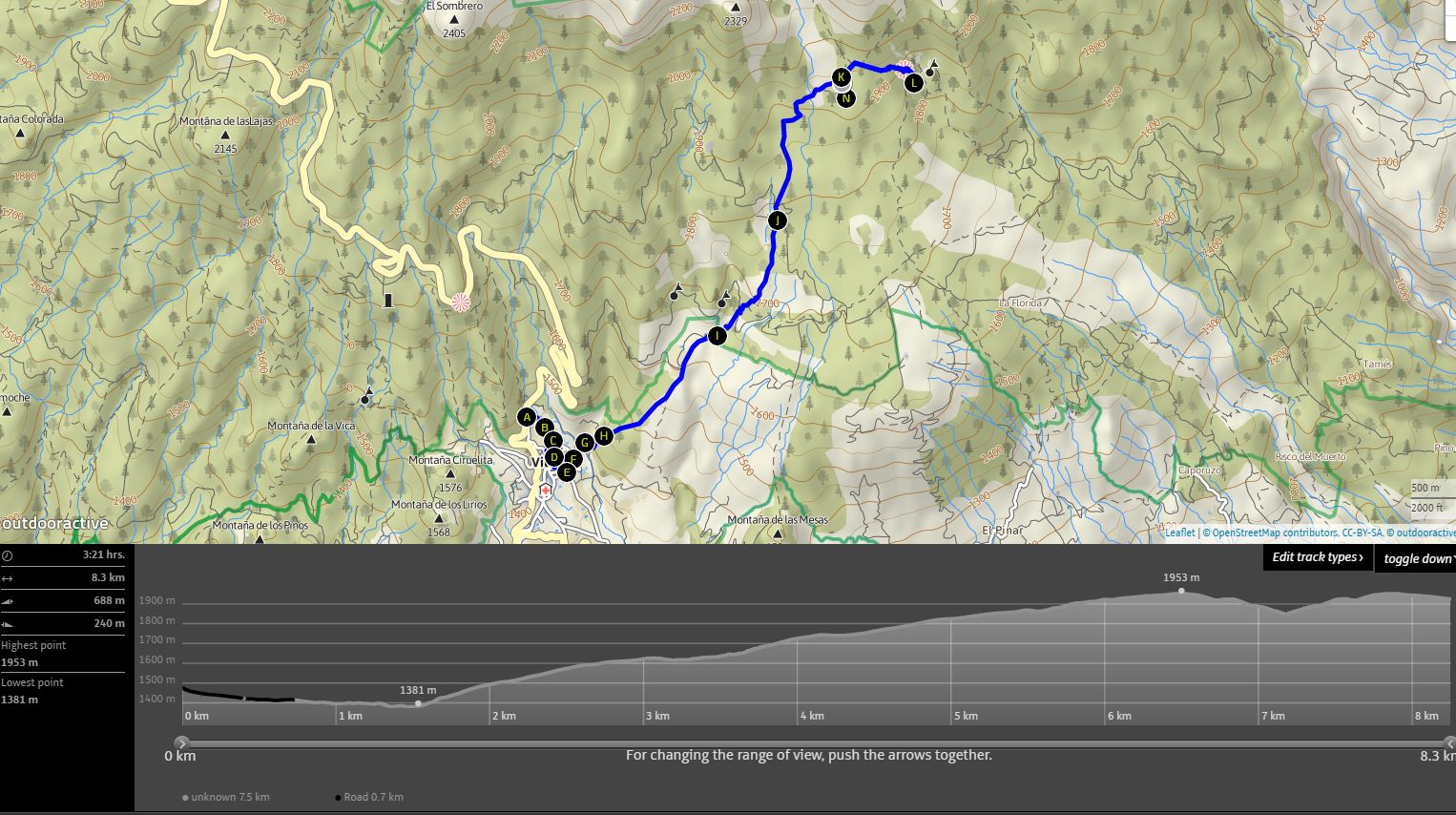 Day 3
Next day you will continue to the Guajara mountain and experience magnificent views on Pico de Teide. This part of trek is the most beautiful part. If the weather is good, you can se the entire volcano area and the Pico de Teide. The top of Guajara is the best place for amazing views. There are several paths from the Guajara down to the Canada Blanca, and some of them are more difficult. GPS coordinates do not lead 100% correctly.

There is a tourist center, restaurant, bathroom and shop at Canada Blanca. It's the only place to buy water (0,5 l for 4 EUR !!!) or alternatively you can take it from a restroom tap. We put our tent down about 200 m before this place right next to the path (shortcut between road and tourist center), but next day we found better places next to Las Canadas circle, about 400 m from the road. It is not allowed to sleep there either, but if you behave quietly and nature-friendly it is normally OK.
​​Day 4
Next day we did the Las Canadas circle (this trek is amazing, definitely go there in the morning before 9 am - then hundreds of buses and thousands people will come), than we got lunch at Canada Blanca restaurant and got to the Pico de Teide by car (we hitch-hiked). We went up to the volcano by lift (be careful because of opening hours - you have got time till 5 pm, but there are hundreds of people ahead. So be there till 4 pm. When you get up, enjoy the sunset and then move about 200-300 down the volcano. There you will find about three suitable places (on the right side, in the middle of lava field) for a tent in the middle of the path from the top of the volcano to Altavista hut.

You can only get to the top of Pico de Teide without permit in the morning (before 8:30 am) and in the evening (after 6 pm). If you want to go there during the day, you need a permit and you have to ask for it in advance (about 1-2 moths) through internet (permit is free of charge). Sleeping under the top of Pico de Teide is a freezing experience, it was minus 5 degrees inside the tent the day before the Christmas Eve.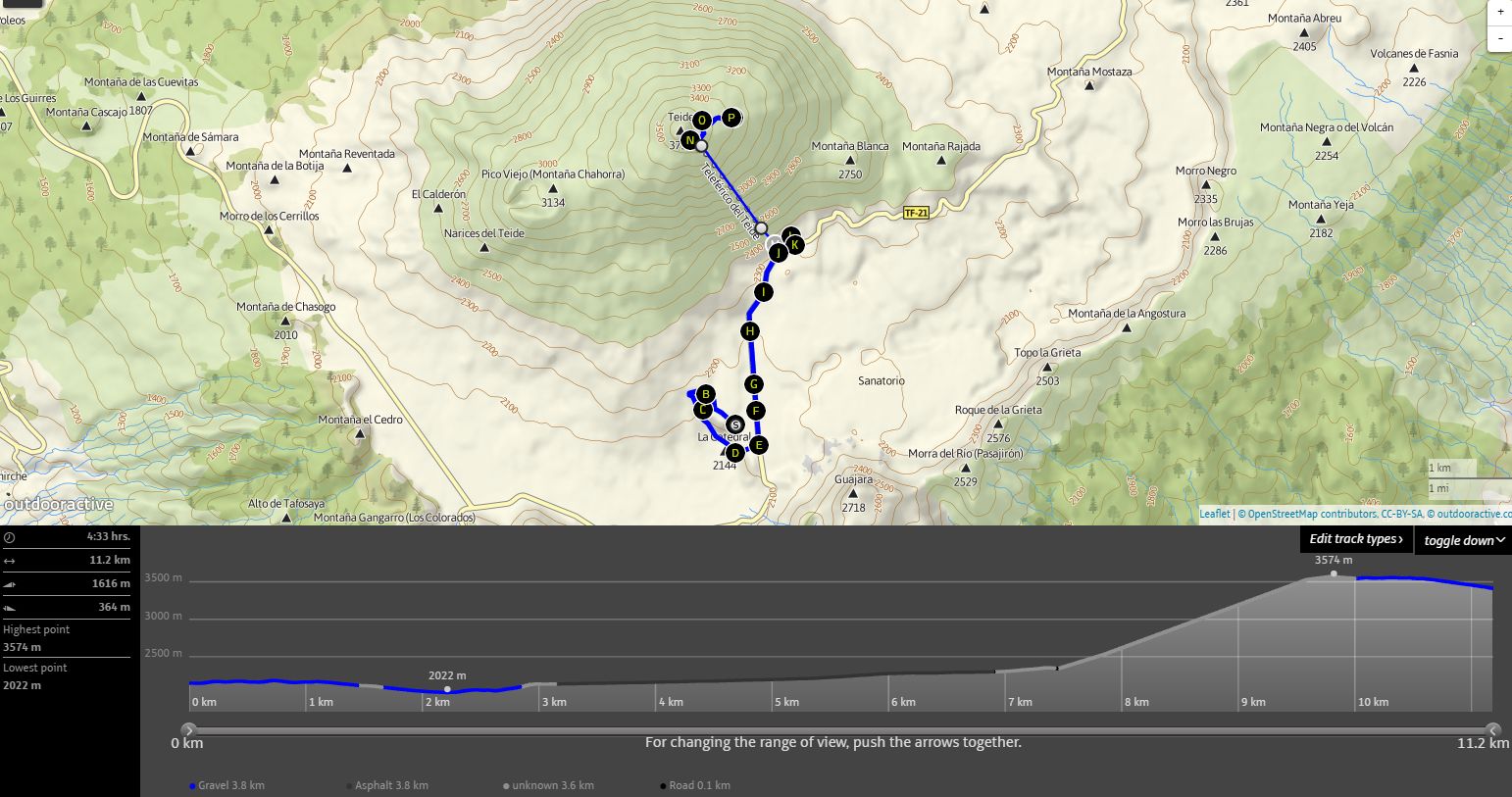 Day 5
Next day in the morning you will climb (there is a friendly path - more road then path) to the top of Pico de Teide. From your place it will take about 40 min, so it is not necessary to get up so early. Sunrise was at about 7 am. Then go back to your camping place, pack your tent and follow the path to the El Portilo. There is a tourist center, and a restaurant at this place. There is a bus station in the parking lot, but you should know that there are several parking lots, so you have to find to right one next to the restaurant.

From here, we went to Masca by bus (we had to change the bus 3 times). It is a crazy way, but you can get from El Portilo to Masca during the rest of day (you will get to Masca late at night (about 11 or 12 pm). We got to Masca late at night and it was Christmas Eve. We slept (almost) under the stars (in the middle of village). There is a beautiful square ant we slept in the bower in front the church.
Day 6
Next day we did the famous Masca trek - Barranco de Masca - the Pirates path. It will take about 5 hours. It is not a difficult trek, but in the end you will be tired enough. Then you will arrive to the ocean and you can take a water taxi (or go back to Masca) to Los Gigantes. We were there around 2 pm and made the decision to visit Santa Cruz de Tenerife and take the day off in a luxury hotel (for rest of the day).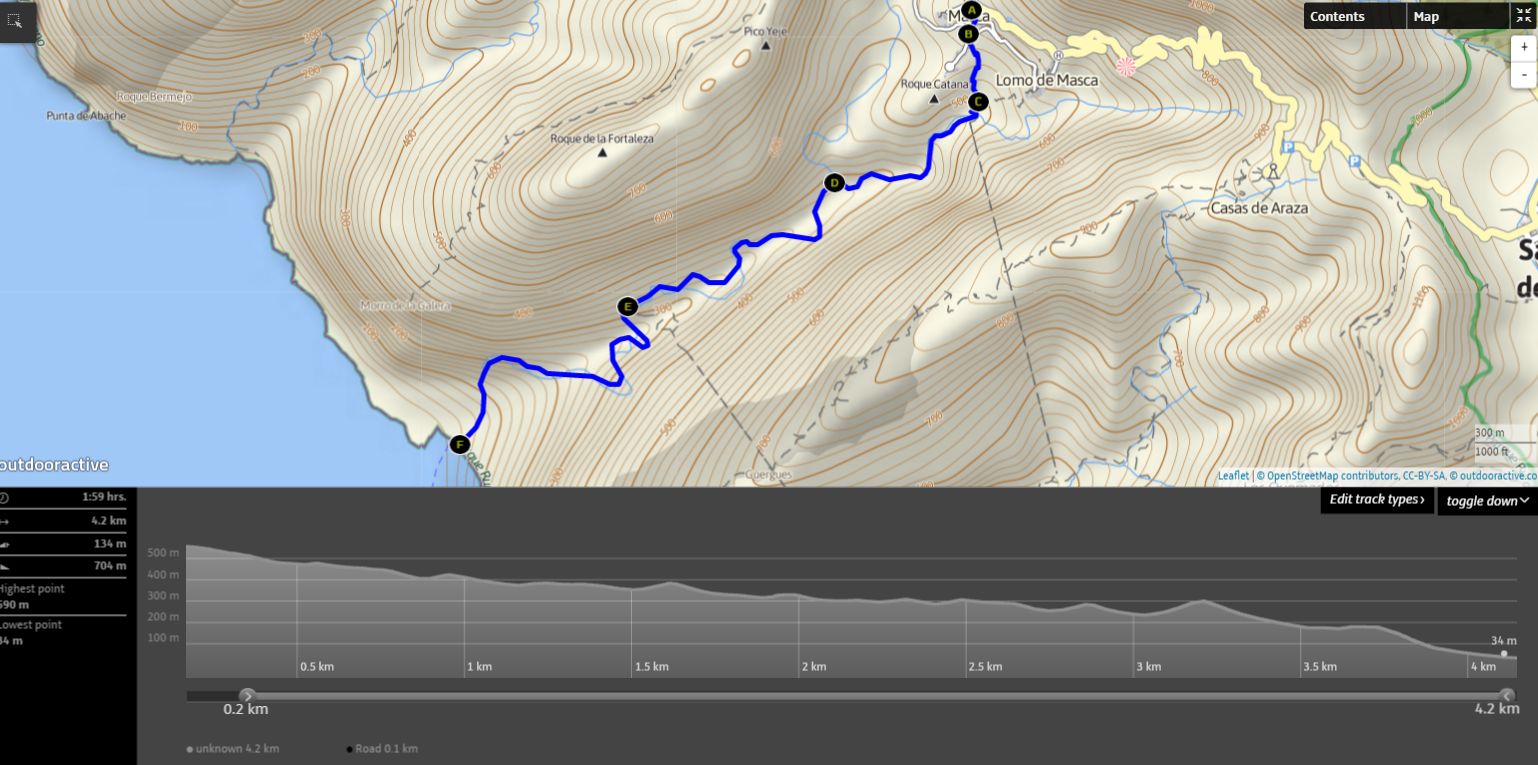 Day 7
Next day in the morning we visited the Anaga area. We went by bus to the Las Mercedes and then to the Cruz del Carmen. There is a tourist center, they will give you maps and they will recommend you the right trek. Unfortunately, the weather was poor that day. The wind was so strong that it was dangerous to walk across the forest (because of falling branches). We hiked only a short loop there (about 5 km) and then moved back to Santa Cruz de Tenerife. We were trying to figure out what to do next (because we had already seen the best of Tenerife) and we got the idea to visit the La Gomera island.

So we bought tickets at the bus station. Fred Olsen company took us by bus to the Los Cristianos harbor and we experienced a night sail to the La Gomera island to San Sebastian de la Gomera. San Sebastian is amazing city with a great atmosphere. If you want to sleep for cheap, find the Pension Bar Victor (20-30 EUR/room).
Day 8
Next morning we visited the tourist center and got some maps, then we moved to the bus station and went to Pajarito bus stop, where started our one day La Gomera trek. We hiked up to the top of the Alto de Garajonay, the highest La Gomera mountain (to be honest - it is more a hill than a mountain) and then we continued to the Laguna Grande and back again. Easy walk, nothing special, if the weather is good you can see the Pico de Teide from the top of Alto de Garajonay. We got back to Pajarito late at night so we had to take a taxi back to San Sebastian.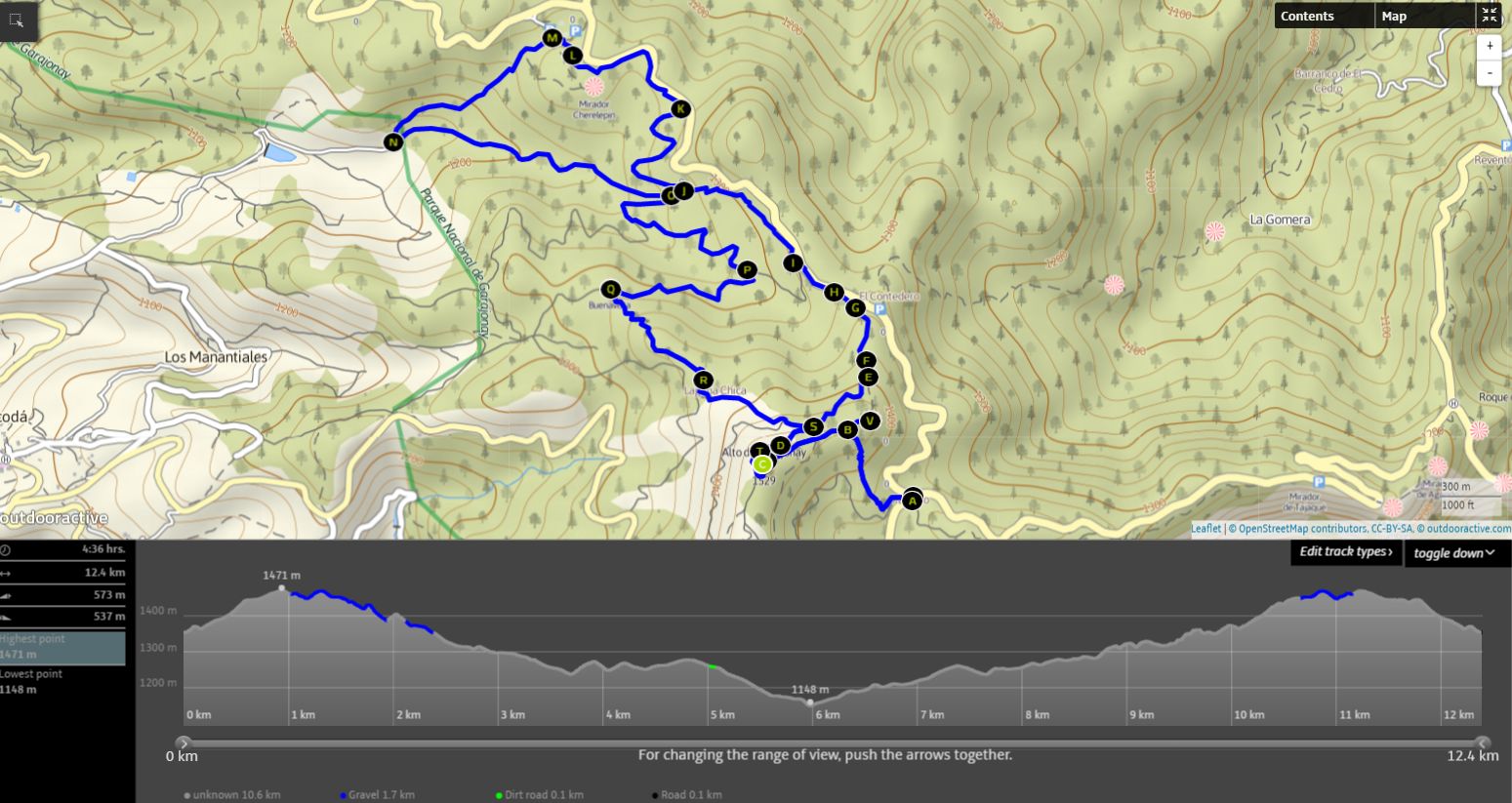 Day 9
Next morning we were sailing back to Los Cristianos and we were enjoying views of La Gomera as well as Tenerife from the boat. We had almost half a day left so we bought 2 hour-long whale watching tickets and we saw a lot of them. It was a nice experience. Then we went to the airport (by bus), where we spent a couple of hours for our flight back home.
Transports
We did not use a car. There is a great bus infrastructure, you can get everywhere and at any time. Buy the permanent ticket – it is a good investment.
Equipment
We used standard outdoor equipment, nothing special. You should know, that you will not find drinking water in the nature. You will have to buy it, and it is quite expensive at some places (Canada Bianca).